Fri Oct 25 21:54:45 2002 (nmcfarl)
Book: N/A
Location: Friday Harbor -- > Albuquerque
So I took a job with this company or maybe this company in Albuquerque today.
We'll be moving soon. Weird, Exciting. Maybe other things.



Wed Oct 16 23:31:19 2002 (nmcfarl)
Book: N/A
Location: Everywhere
So a quick update.

First Happy Birthday Brooke!!!

Sunday and Monday I went down to Albuquerque for a job interview. It was a pretty cool job, we'll see what happens.

Also I got a picture of the actual room we stayed in last week, at Ace Hotel.



Tue Oct 8 18:01:49 2002 (nmcfarl)
Book: N/A
Location: Seattle


Last thursday Rachel and I went down to Seattle for my Friday 9:30 am interview with MusicNet. Which was interesting, I sat in the lobby for half an hour, before the interview. I kinda thought it was a stress test, at the very least the first hour of the 4 hours was a bit off, but then I warmed up. Hopefully that was good enough we'll see this week. I've also got another couple of things in the works, including one in Albuquerque. I'll be flying there this weekend.

Anyhow in Seattle we saw Jason and Jenny and ther cute dog, We stayed at the Ace Hotel (pictured below), which was very well done and reasonably priced for downtown (shared bath). It was a good trip. But we did miss seeing Brian, and we had the photos with us but forgot them when seeing Jason and Jenny, so there's always room for improvement.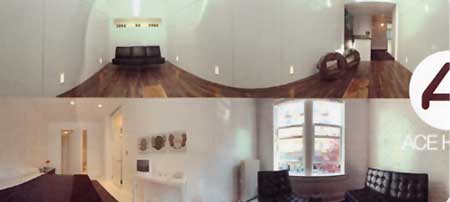 Mon Oct 7 03:20:50 2002 (rr)
Book: N/A
Location: Friday Harbor
I've posted a few photos from the trip along with explanatory captions at my homepage: nmcfarl.org/rachel.

Mon Oct 7 02:55:27 2002 (nmcfarl)
Book: N/A
Location: Friday Harbor
So I've started a new travel related section of the site, Excerpts From Nathan's "Award Winning" Journal. Of course it's only award winning in my mind, but I did work on it pretty hard and I thought I'd put some of it online. First up is Beers of the South Pacific. Have fun take a look around. I'll always up date the travel blog when I add a new entry, so you can keep coming here for the new info.
nmcfarl.org

email us
email Rachel
email Nathan

See the pictures.
Palau Pictures
Yap Pictures
Hawaii Pictures
Taiwan Pictures

View the original itinerary

October 2002
Sun
Mon
Tue
Wed
Thu
Fri
Sat
1
2
3
4
5
6
7
8
9
10
11
12
13
14
15
16
17
18
19
20
21
22
23
24
25
26
27
28
29
30
31
September &nbsp November